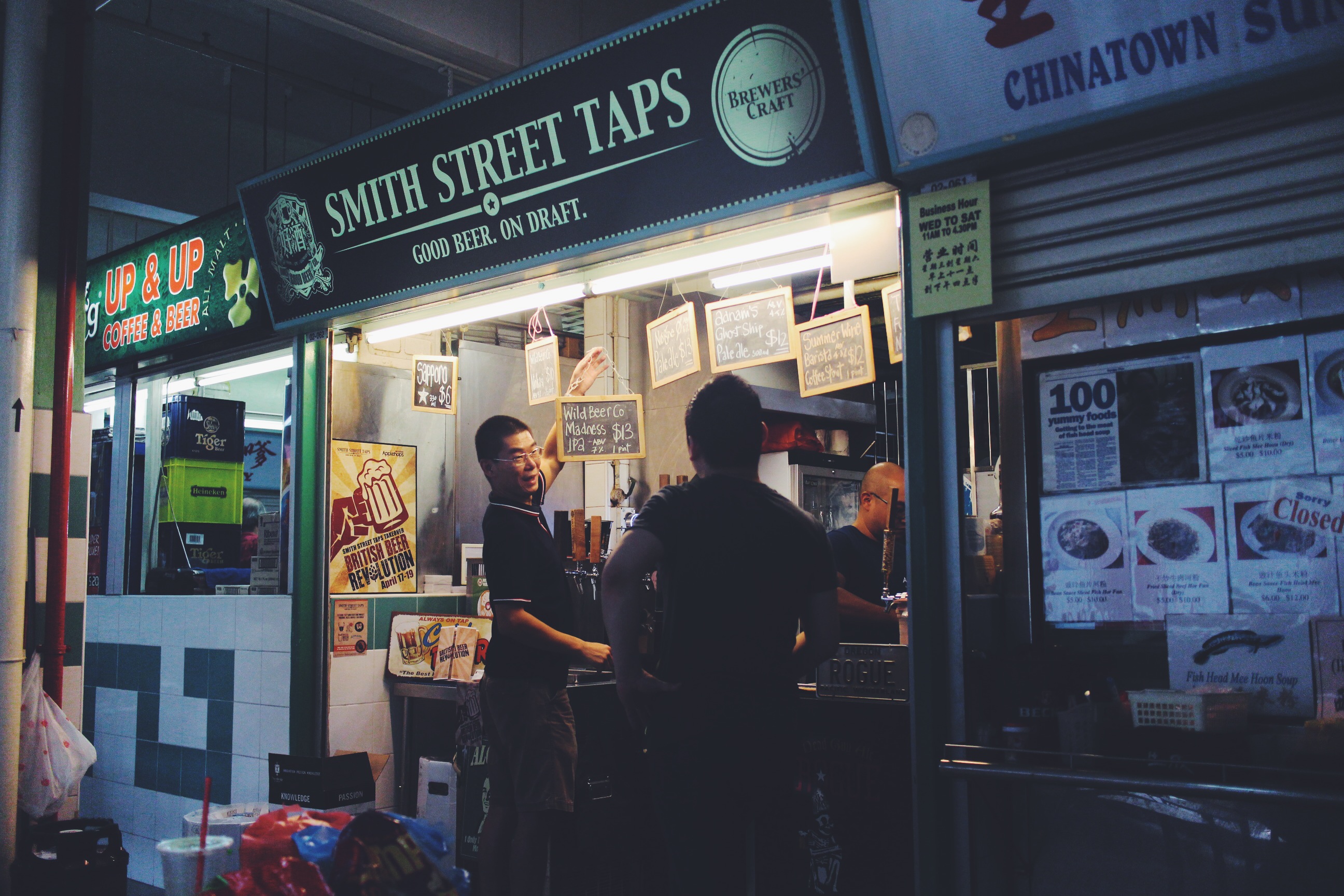 It's 6pm on a Thursday evening ahead of Easter Weekend and I'm thirsty. There's a feeling of sweet liberation brought on by a long weekend in the air, and I'm ready to drink at Smith Street Taps. Set up by Brewers' Craft Meng Chao and The Good Beer Company's Daniel Goh, the pair and their team have a busy night of the craft beer loyal all taking turns to pay homage to the kopitiam taproom ahead. Meng Chao and Daniel have been staging tap takeovers for the geeky and the keen learner to expand their knowledge of the who's who in craft beer in the world now, and I'm naturally here to soak in the knowledge too.
I'm hardly the first in an imaginary line of dibs that has probably started a good half and hour before Smith Street Taps is even open. This game of queue dibs to secure the first spot and be the first to try a beer consists of a cool, implicit acknowledgement of everyone's place in the anticipatory line to get our beers when Meng Chao or Daniel at the stall nods a small okay when everything's all set up and ready to go. Ahead of me is Dave Pilgrim and Sandy Tran, a couple who've become regulars at our homebrew meetings, stomach all lined from an early dinner eaten probably at another one of the sprawling hawker centre's busier lanes. I'm hungry, and I know I'll need some padding ahead of my 'tasting' (some tasting this is; I'm drinking pints ;)), but the conversation about stalled fermentation with Sandy, and Dave's massively impressive collection of beer books for the iPad is keeping me put for now – that, and really the fact that I can't quite bear to leave my spot this ahead of the pack.
2014's thoroughly shaping up to my personal predictions that it'll be the year of craft beer on draft here in Singapore, and I'm not alone in drinking in the excitement of this better way to experience the revolution here. Smith Street Taps has clearly led the charge, opening in January this year to serve a complementary array of kegged beers to Daniel's craft bottles just a few units away, and a few other of our favourite beer bars have started to slowly implement their own tap programmes, or have plans to get in on it in bigger ways.
Distributors like American-leaning Beerstyles, Eastern Craft, The Drinking Partners and Applehops (the newest craft beer distributor in town), have been taking turns to capitalise on Smith Street Taps' growing group of regulars to showcase kegged beers centred around a style of beers (SST hosted an IPA takeover just a few weeks before the British round), beers from a certain country, or beers from a certain brewery. Most are draft editions of the beers commonly available in bottles locally, but the ones that seem to draw the most excitement – at least between Nick, myself and our friends – are the rare spoils coaxed to our straits from the breweries abroad. When compared to the growing thirst for craft beers of the Americans and the Swedish, Singapore's local and craft-craving expats ultimately makes us a small player in the bigger scheme of things, so these rare kegs certainly speak to the tenacity of our distributors to offer even more to the local drinker.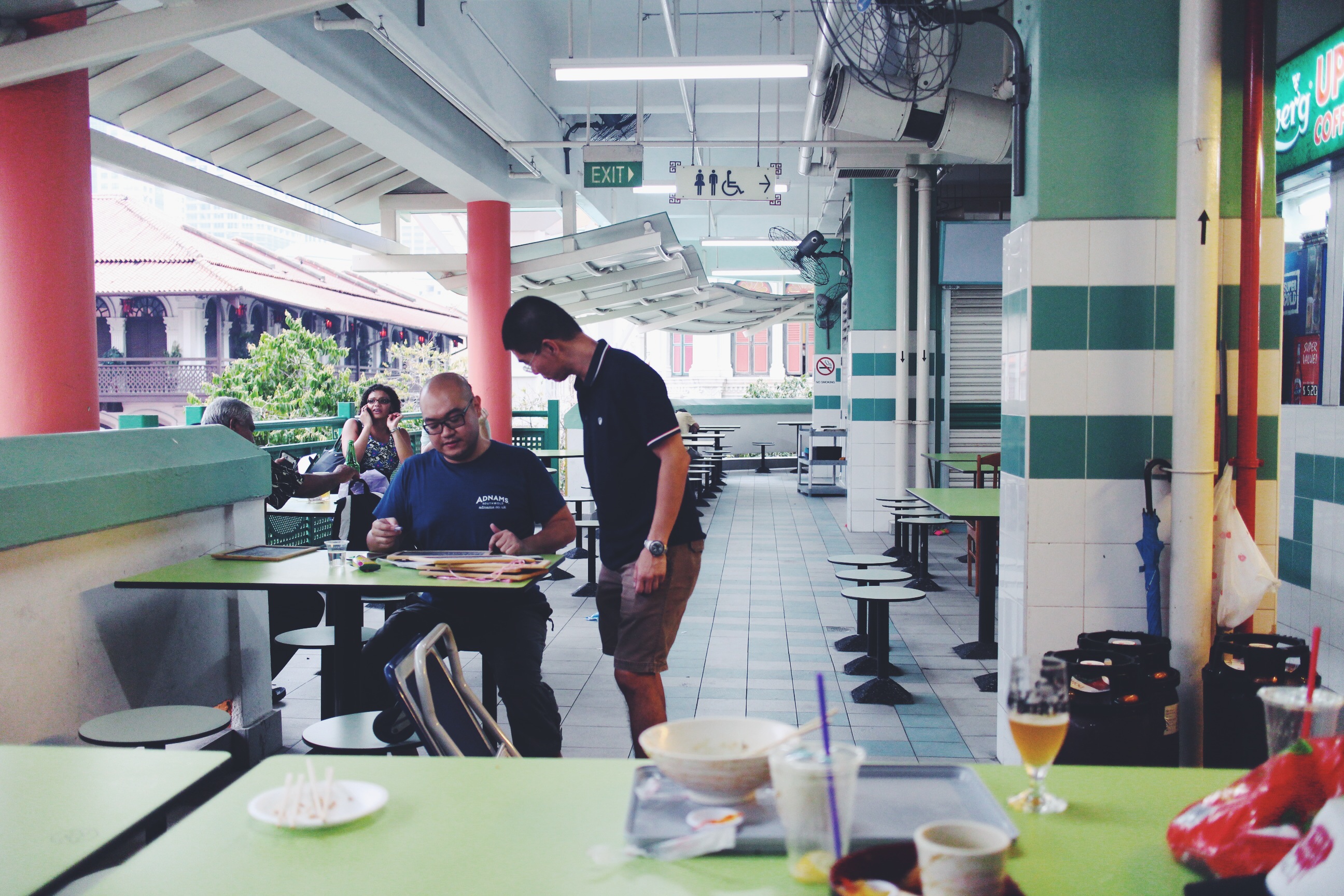 For an insight into the work that goes behind organising a night of specially curated taps like the British Beer Revolution we attended, you should arrive early, like I did. Daniel, Meng Chao and their team – some of whom work for Daniel's bottle stall The Good Beer Company close by – commune with their staff over wanton mees and clay pots of rice pre-service. It's hardly as epic or grand as the staff meals documented in Christine Carroll and Jody Eddy's Come In, We're Closed (a fascinating book that documents the staff grub at some of the world's best restaurants), but it's a fortifying meal; a communion of relative silence ahead of the drunken chatter and friendly banter that'll get progressive louder as their comically large, wood-handled taps continue to pour forth gold and amber nectar long after their older hawker neighbours retire/flee for the night. Daniel and Meng Chao move on after the meal to discuss strategy on which beers to serve (or they might have done at an earlier time as Meng Chao's got a sheet of paper he guards closely) and the pair work together for the final set up before drink 'o' clock.
With every hyped up limited edition, and every carefully curated selection of crazy experimental brews balanced with more mass market wheats, pale ales and fruit beers, the niche of craft beer drinkers – locals and foreigners alike – continues to influence people away from their impression that beer just isn't for them, and that there's more than just fizzy yellow pisswasser on offer.
Just yesterday, The Drinking Partners (also the owners of The Great Beer Experiment at Pasarbella in The Grandstand, Bukit Timah) had Smith Street Taps pop on their collection of Magic Rock brews from Huddersfield for another takeover. We hardly recognised anyone; perhaps we arrived too late after our beer off-flavour session for the true beer geeks, or perhaps the scene has indeed grown so much that us first wave drinkers are no longer alone.
Not that we're too bothered though. The scene is growing, and we're all the happier for it.
Follow Smith Street Taps on Facebook to find out first about future tap takeovers.