We take a break now from the recount of our trip to Copenhagen and the UK to bring you this helpful guide on how to get beer shipped into Singapore. :)
I haven't quite told anyone (not even Nick) but I've been constantly stalking the Mikkeller and other craft beer e-shops online, hoping to see To Øl's Baltic Frontier surface again for me to buy crates and crates of. Alas, it looks like that beer is sold out forever, resigned to a distant, though incredibly awesome memory in my head. All that stalking, however, didn't quite go to waste. I was actually lucky enough to catch the last bottle of Three Floyds' Zombie Dust and a Mikkeller Spontanseabuckthorn and promptly made my order to get it shipped to Singapore. What I didn't quite realise, was that the road ahead to actually getting my bottles of sweet, sweet beer was fraught with bummers.
The first bummer? Shipping's mighty expensive. Zombie Dust cost me DKK55 (S$12.95 – a friend said it was only US$2.50 in the States!) and Spontanseabuckthorn was DKK85 (S$20), but shipping without tracking was DKK200 ($47) – more expensive than the beers itself! That tacked on quite a premium on the beers. Blah. But I got my hands on a freaking Zombie Dust (it's always ranked in best IPA and Pale Ale lists) and despite the Mikkeller bottle being a sour beer, which I'm not too partial to, I'm a new convert to sea buckthorn berries and I desperately wanted to see how it did it another beer that's not the Baltic Frontier. So I bit the bullet and bought the freaking beers.
Thankfully, the shipping actually didn't take too long. It ended up taking about six to seven days to reach Singapore from Copenhagen, but of course, next came bummer number two. I had to be taxed, especially in the wake of the sudden alcohol tax increase – nuh uh, there was no way the gahmen was going to let me have my rare beers without them getting a lick of the money I had already forked out for them.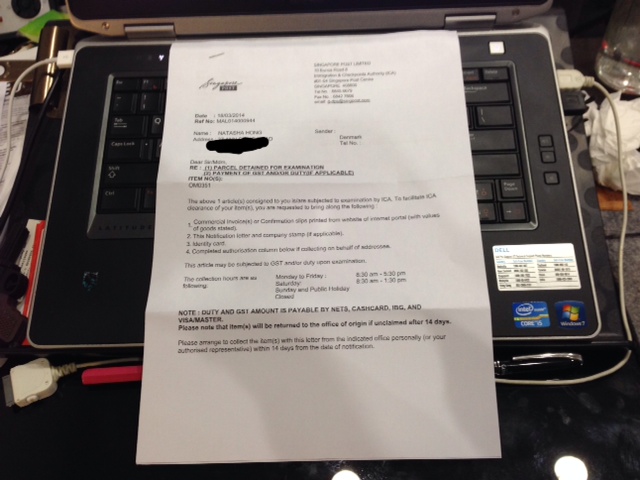 I received a letter at work (my shipping address) summoning me to present myself at the Customs office at the Singpost building in Paya Lebar as border control had reason to suspect I was bringing in beer, and had to do so within 14 days otherwise the package will be returned to Mikkeller Copenhagen. So early on a Saturday morning, I marched my sleepy self over to the Customs office to pay my sin tax.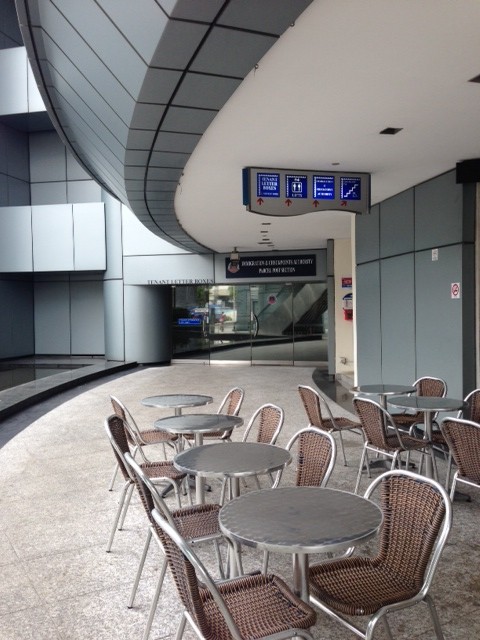 The office is a little hard to find – it's tucked away in a corner of the ground floor (and not in the Singpost space) and looks pretty darn intimidating from the outside with its mirrored glass windows. Inside though, wasn't quite as bad. It's a sleepy office, with an L-shaped counter and some office cubes behind them. I presented them my letter and receipt for the beers, and a staff member brought my package out for me to unpack.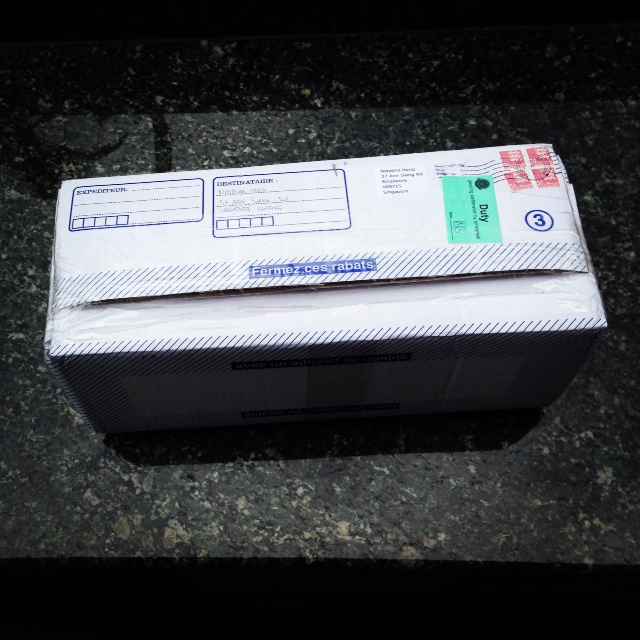 Time to calculate tax and GST. The officer filled out forms, stopping to ask me what the volume of each beer was, and it's alcohol percentage. We couldn't find the one for Zombie Dust, so they just deduced it was 5% and did their calculations. Their formula (I think):
Duty = Total quantity in litres x $60 x alcohol strength in percentage
which worked out to
$4.95 = 0.75l x $88 x 11%
After which, they said I could go.

Whaa…?
The non-bummer number three and happy ending to this experience was that they decided that it was too little to tax, and that they would just let me take the package and go. AWW YISS! But yeah, I asked and they said it works on a case by case basis and that it's usually up to the discretion of the customs officer to decide whether or not it was worth taxing in each situation.
So that's it! That's the story on how I spent $80+ on two bottles of beer and almost had to pay taxes for them, but didn't, thanks to the kind heart of the customs officer (I think more than anything, they felt sorry for me that I'd spent $80+ on beers!). Next time, I'll tell you all about the beers and how they were hopefully worth it!