We finally made our trip out to Copenhagen, and the first place I was dying to see was a Mikkeller bar – I say 'a', because they have two bars, though the newer one on Stefansgade (Mikkeller & Friends) is more a bottle shop AND bar, but more on that later.
After a rather underwhelming (and expensive) dinner at the Claus Meyer co-owned, Singaporean cuisine nam nam restaurant, our Danish pal Adam navigated us through the city's quiet Winter streets and public transportation system to get us to Mikkeller & Friends. It took a bit of walking from the main road to finally get to it – the bar's located in a very residential part of town, and it being Winter and close to Christmas, the streets were pretty subdued – but once we got close, the warm glow on the dark street told us that we had arrived at our Mecca.
We were here. And I swear guys, as beautifully as the craft beer scene has blossomed here in Singapore over the last few years, the bars here have nothing on Mikkeller & Friends (sorry, guys!).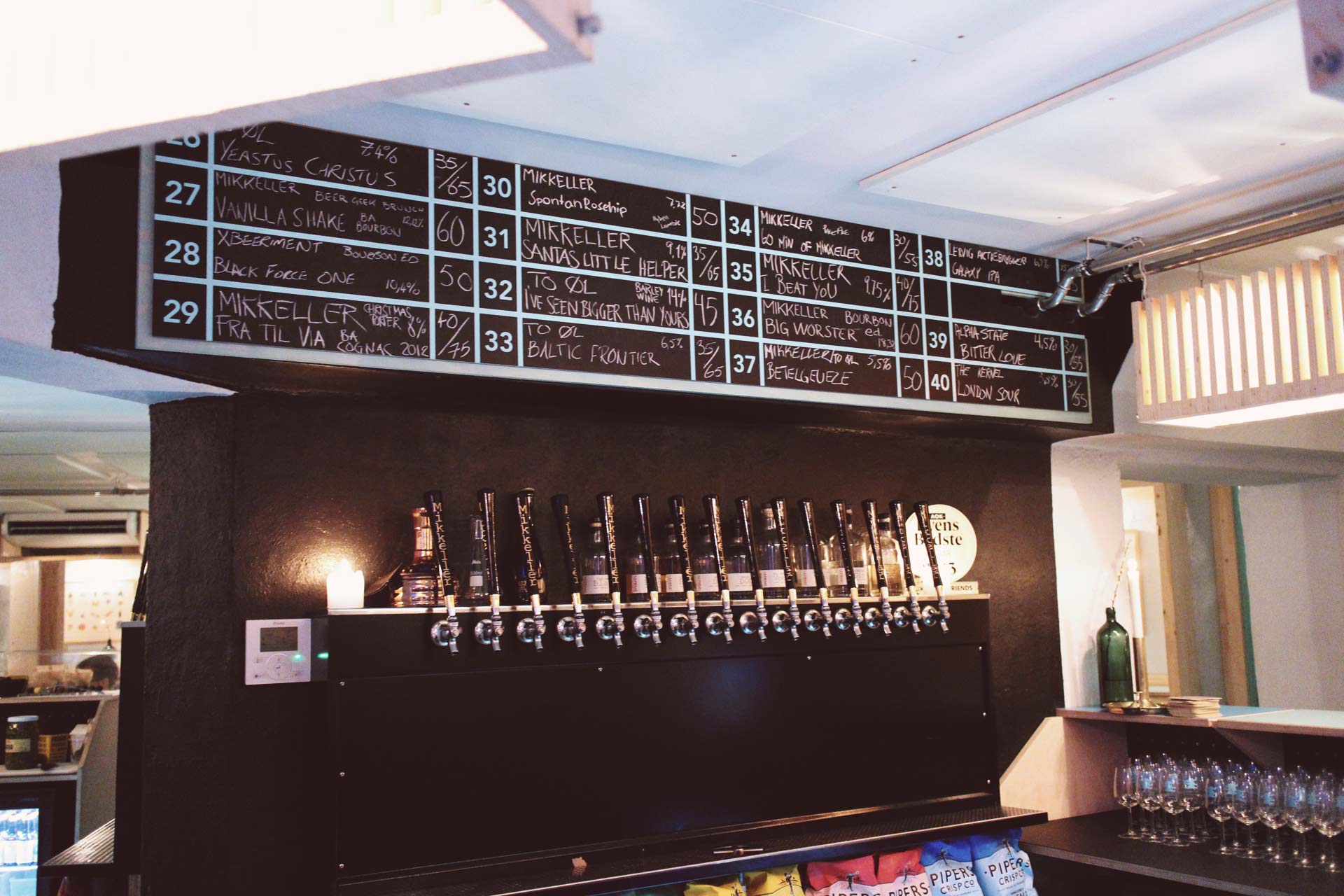 This was essentially, one of the first things I laid my eyes on when I got in. And oh. my. god. I was bordering on ecstatic – so many beers! Where do I even start! It wasn't until I started reading the beer board a little more closely that I realised that To Øl's Christmas Yeastus Christus was number 26 on the board. There was another 25 whole beers somewhere else! (It turned out to be not too far away – just around that left corner. I was really excited though, give me a break. :)) That was quite a sight to take in, really. 40 freaking beers on tap and we just had about two hours before closing to even put a dent on the beers on offer.
We did eventually settle on a number of beers to try, thanks to the knowledgable servers they employ, but more on that later. The first beertender we spoke to had a little something familiar… about her. I could kind of detect the Singaporean accent on her and was about to ask, but Nick beat me to it –
'Are you Nancy?' asked Nick. Tactful as always.
'… Yeah?' replied Nancy, the poor interrogated lady.
Turns out we were in the presence of the Nancy, the first female brewer in Singapore – she used to work at iBrew and from what I understand, single-handedly brewed the beers at the very first iBrew Challenge Nick and I attended in… when was it now. 2010? 2011? What are the odds that two Singaporeans would meet in a niche craft beer bar all the way in Copenhagen, eh? I'd put it down to pure happenstance than philosophise about how big the scene has grown blah blah.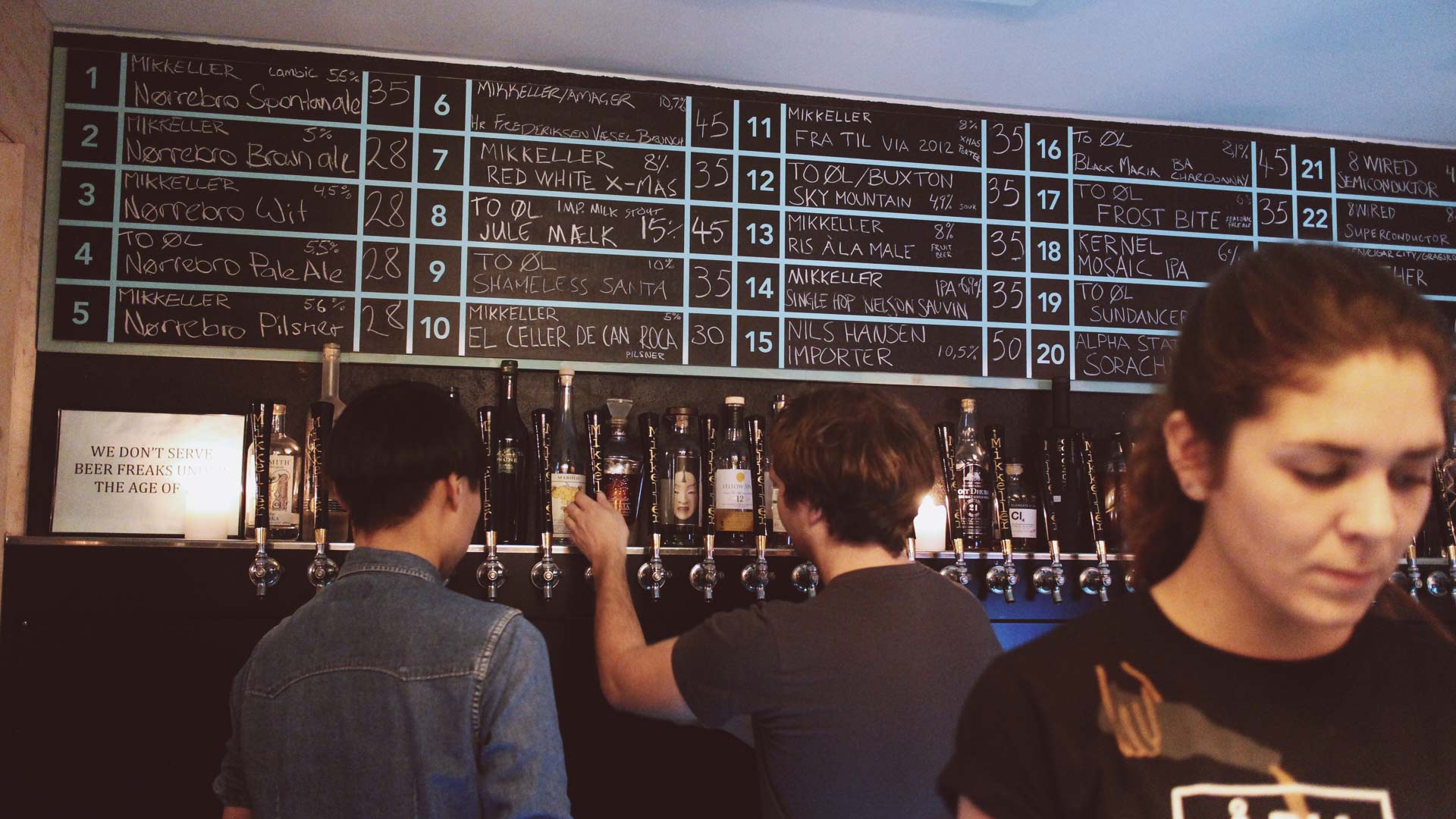 She (that's her on the left in the denim) and most of the staff were massively helpful in explaining to us the flavours of the beers we were interested in trying – and it was pretty important really, considering the beers (save for the more standard Nørrebro beers by Mikkeller) started at 35DKK (around SGD$8) for a third of a pint in their pretty stemmed glassware.
The thing that made Mikkeller & Friends for me was certainly the unparalleled selection of To Øl beers on offer. Once understudies to Mikkel's Mikkeller Beer, the dudes don't have a bar or a bottle shop, and so have worked out an arrangement with the Danish powerhouse brand to stock and distribute their beers there. A good number of the taps were beers by them, and then there were some stuff from the UK (Kernel – love their stuff, Alpha State – didn't try) and a smaller selection from the US (Mikkeller has very close ties with Three Floyds and I'm sure they have their stuff on tap once in awhile.)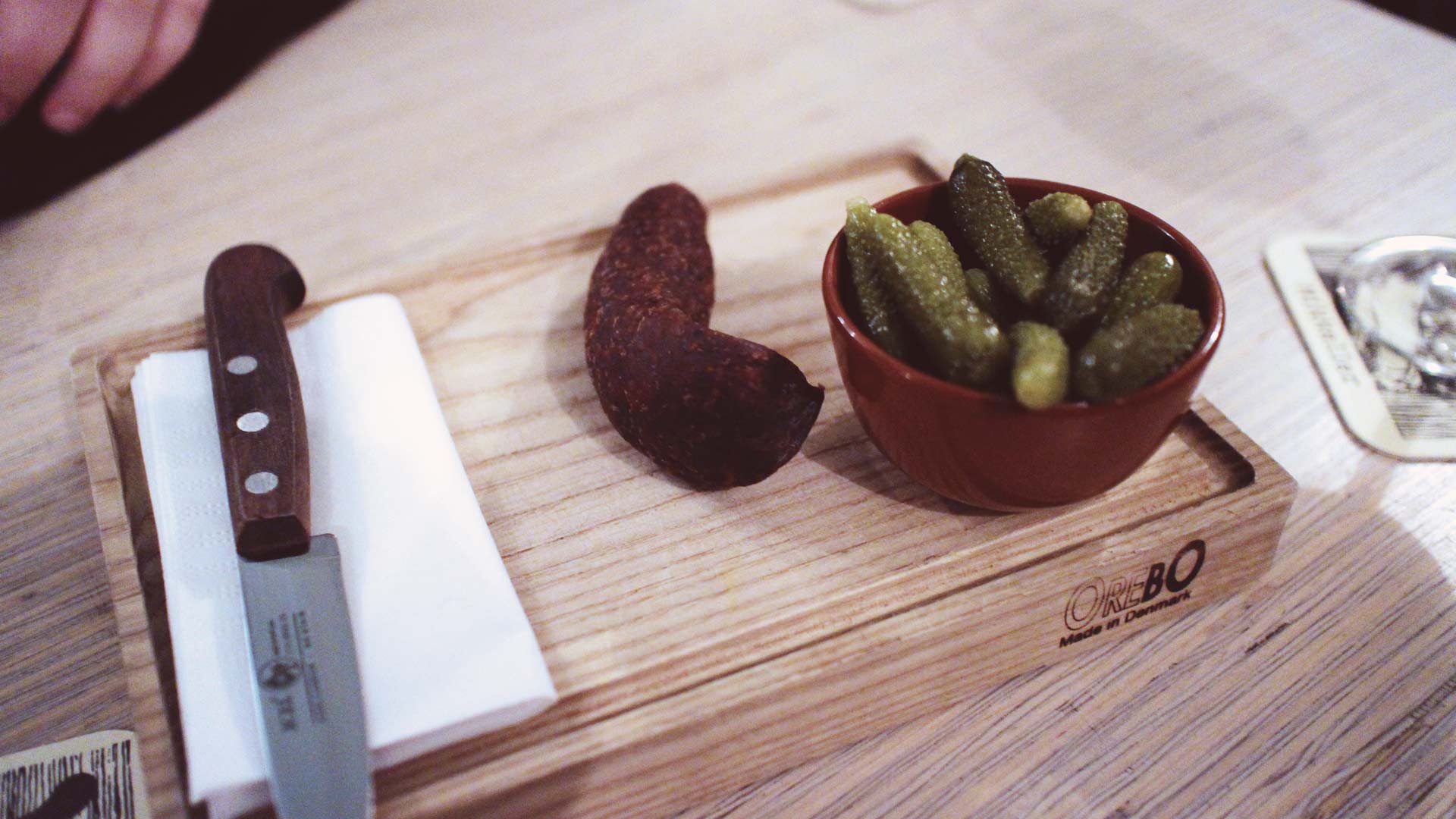 Mikkeller & Friends was also the place that seriously made me fall in love with pickles. Really odd I know! But every few tables in the bar had a cute little wooden board and an spectacularly unsharp knife with cured wieners on the board, so I made Nick get some for all of us. Turns out, the brand also dabbles in getting charcuterie made for them (who would have thought, eh?). We had a mini-beer sausage (20DKK) and the cornichons that came along for the ride was the perfect accompaniment for beer. A tiny bit savoury, and a bit more tart, those little things are such nice palate cleansers especially when you've got a really big, hoppy beer by the pint to finish – not that I've been particularly susceptible to hop gelak though.
Now, enough of my talk. I'm sure you want to know what we had at Mikkeller & Friends. Unfortunately, I wasn't able to log the beers I drank on Untappd as I had no internet connection in there, and while I did try to write our tasting notes, I've gone back to review it and it seems like we had a lot less beers than we thought we did. Here goes anyway:
Mikkeller Single Hop Nelson Sauvin (IPA), 6.9%
Incredibly hoppy, to the point that it feels a little soapy in the mouth.
To Øl's Sundancer (Low-alcohol), 3%
Piney nose, but much, much milder on the tongue and is almost a bit watery.
Galaxy IPA (GAHH, we didn't note down the brewery!)
Really light on the tongue, bitter on the hops with whispers of fruit.
To Øl/Mikkeller Betelgueze (Sour), 5.5%
No notes. Too drunk, maybe?
Mikkeller 60 Minutes of Mikkeller (APA), 6%
Quiet on the nose. In the mouth, it's dry, with light notes of fruitiness backed by a strong, earthy hoppiness.
Mikkeller Nørrebro Spontanale (Sour), 5.5%
Notes of acetone, acidic, fruity, with a tart finish. Light on the body, and a little too sweet for the style.
To Øl Jule Maelk (Sweet stout), 15%
Raisin, meaty nose. Smells a bit like cold steak. First notes are of blackcurrant, slight astringency. Impressive for an imperial – for it's ABV, it's a complete contrast to the big-flavoured Tokyo Black by Brewdog. Sessionable, even at 15%.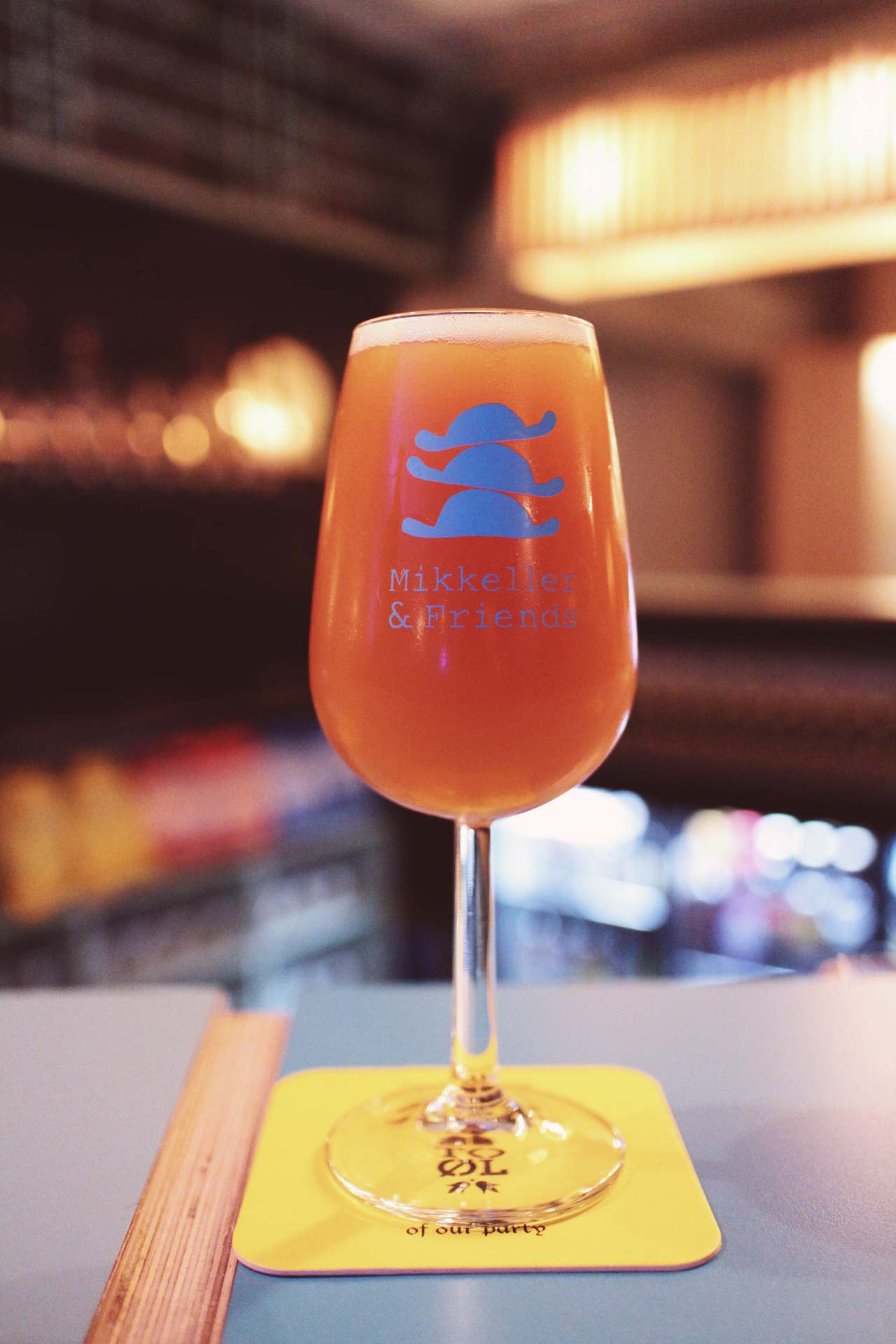 To Øl Baltic Frontier (Fruit beer), 6.5% (pictured)
And now, the final beer we had on our trip to Europe. Okay. I know this sounds incredibly dramatic, but please believe me when I say that this beer makes me cry a lot (inside) when I think about it. I'll explain more in another post, but for now, here are my tasting notes: lovely, cloudy orange, malt like a pale ale but a bit more bodied to back the big frontal flavours. The first bite of pine evolves into a briefly soapy note, then transforms into something intensely hoppy bitter. This is magic in the mouth. The sea buckthorn is what makes it magic. Finishes with a peppery aftertaste at the back of the throat.
That's it for now. Stick around. I'll make a shorter post about the Mikkeller & Friends bottle shop, and Mikkeller Viktorigade and the other places we visited on our trip in a bit.
Mikkeller & Friends Stefansgade
Stefansgade No. 35
2200 Copenhagen N.