Singapore's growing obsession for good food has seen a legion of master chefs pop by for pricey dinners, masterclasses and general schmoozing – craft beer stars, on the other hand, not so much. We were lucky though, to have brewers from two craft breweries leading the charge for the global craft beer movement pop by the city in a span of two weeks.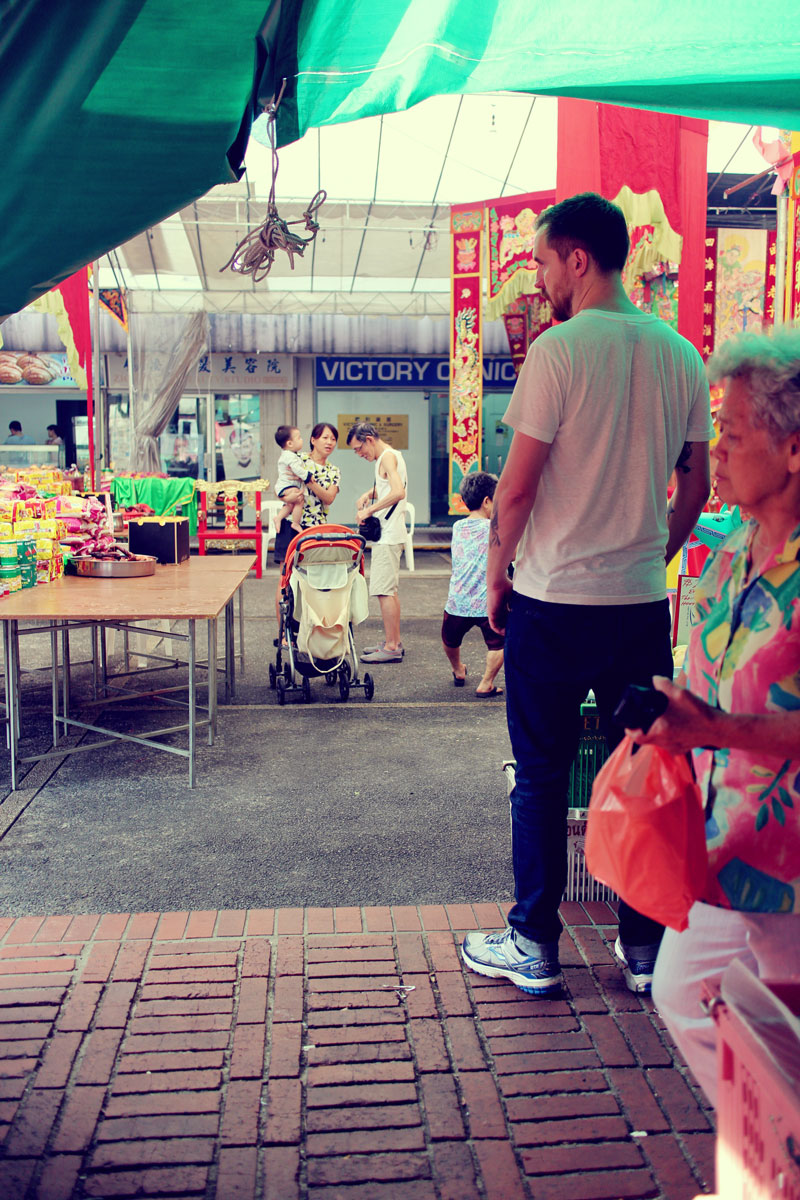 First to visit a few weeks back was Mikkel Borg Bjergsø from Denmark. Dubbed a gypsy brewer for his clever business plan of sending off recipes to the best breweries around the world to create from, the dude's Mikkeller brews have gained quite a cult following in Singapore, especially among the more adventurous drinkers who love the funky flavours in brett and Belgians.
His visit here came courtesy of their distributor, The Drinking Partners, and was an incredibly quick 24 hour pit stop on his journey through Asia – he spent the most amount of time in Bangkok, where he's in the midst of setting up the first Asian outpost of his Mikkeller bar – but the craft beer crazy in the city (Nick and I included, of course!) managed to get really up close and personal with the dude. Just amazing, and perhaps proof of why we love craft beer so much – even its superstars are such approachable and down-to-earth people.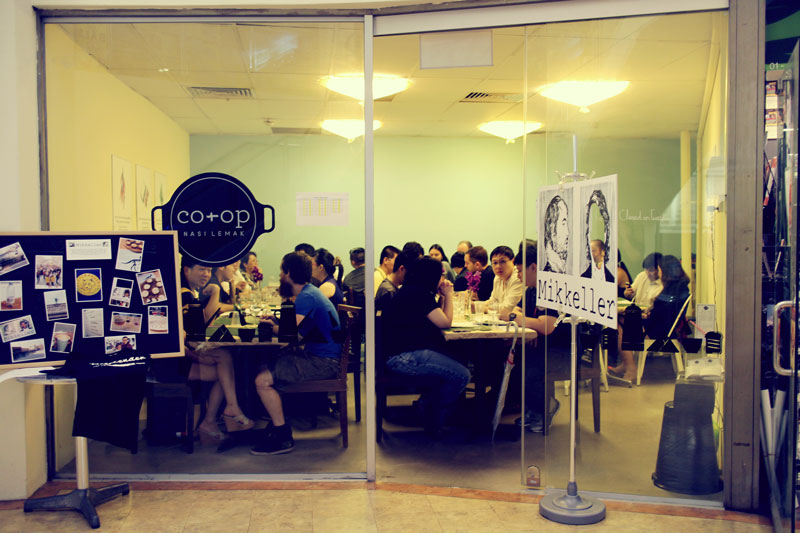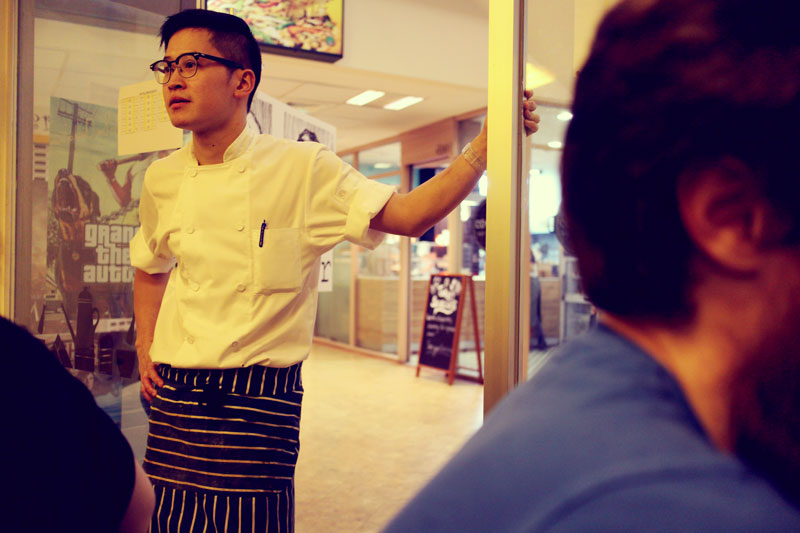 The first of his few public appearances in the one day was an edition of The Drinking Partners' food and beer pairing dinners. Makan with Mikkeller – so it was named – took place at Co+op in Serene Centre, and while I'm still a little on the fence about whether food should be paired with beer like wine's been doing for awhile, I definitely came out a little more convinced about the concept after this. It was evident that Corrine and Lincoln from The Drinking Partners worked really hard with Co+op's chef David Kwok to come up with a cohesive and thoughtful menu of dishes and their corresponding beers for the thirty-or-so people in attendance. The dinner also started with a challenge to guess the pairings, and our team, made up of Nick and myself, Andre and his girlfriend Cordelia did pretty well, coming in joint first with three other teams of diners at the event. :)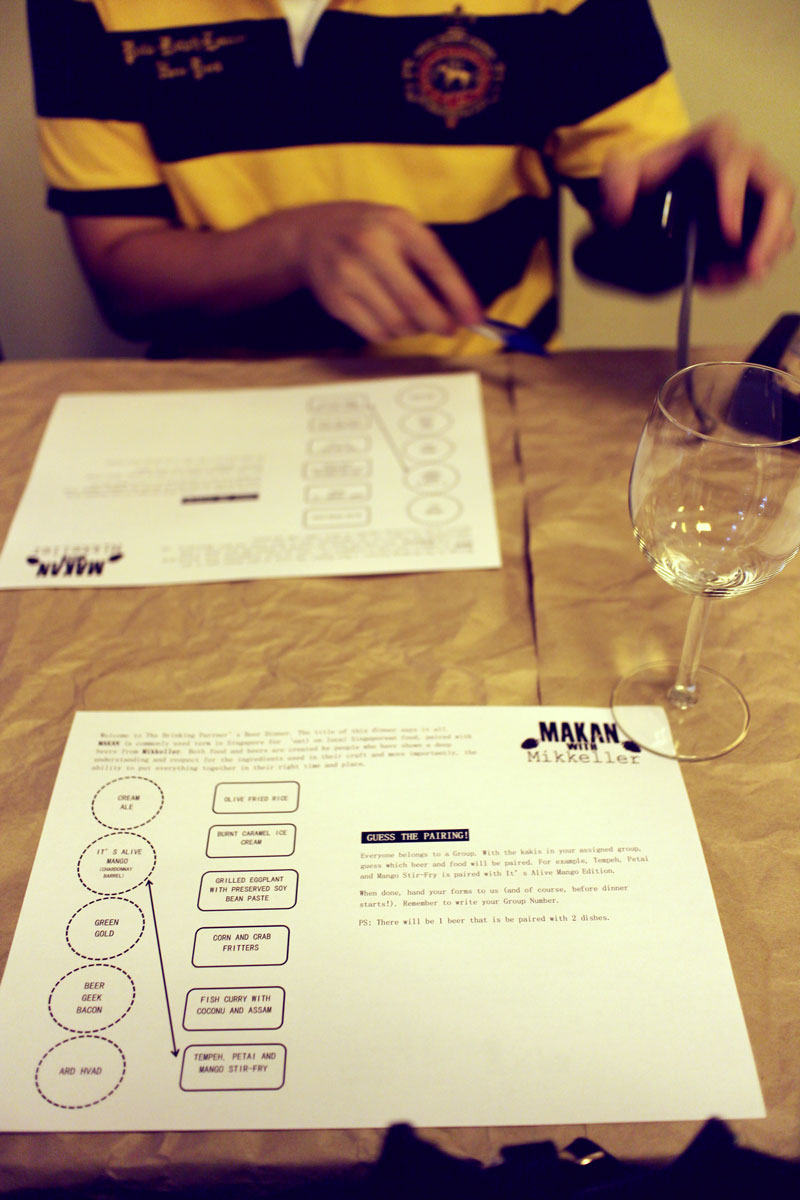 So, as predicted in our little matching game, dinner started with corn and crab fritters paired with the light and effervescent Cream Ale by Mikkeller. Lagers usually do well to cut the oilyness of fried food, and though the Cream Ale has a touch more hoppiness in it than a lager, it added a slight floral note to the delicately flavoured fritter, which was interesting.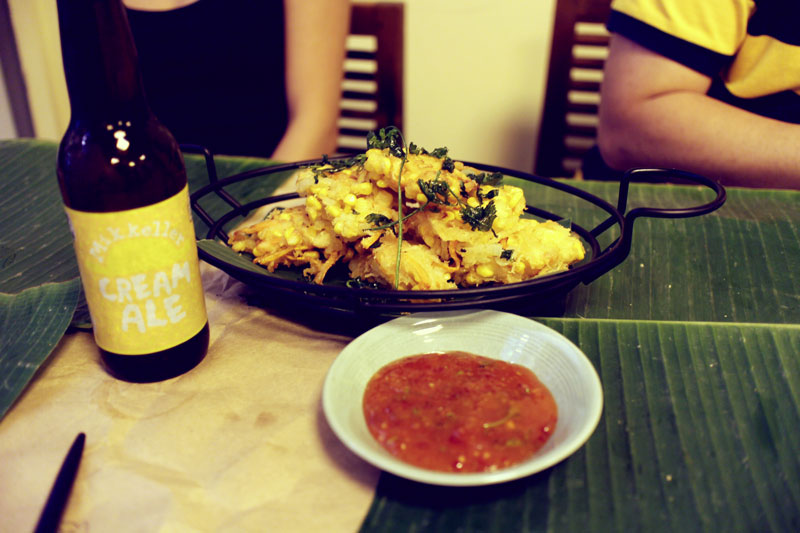 Pairing funky with funkier, the much dreaded (at least in our case) petai (stink beans) and tempeh with the brettanomyces-laced It's Alive (Chardonnay Barrel with Mango Edition). Fun fact, by the way: this was the first beer our pals, Hongyee and Sylvia, drank after the birth of their young one, Bryan. :)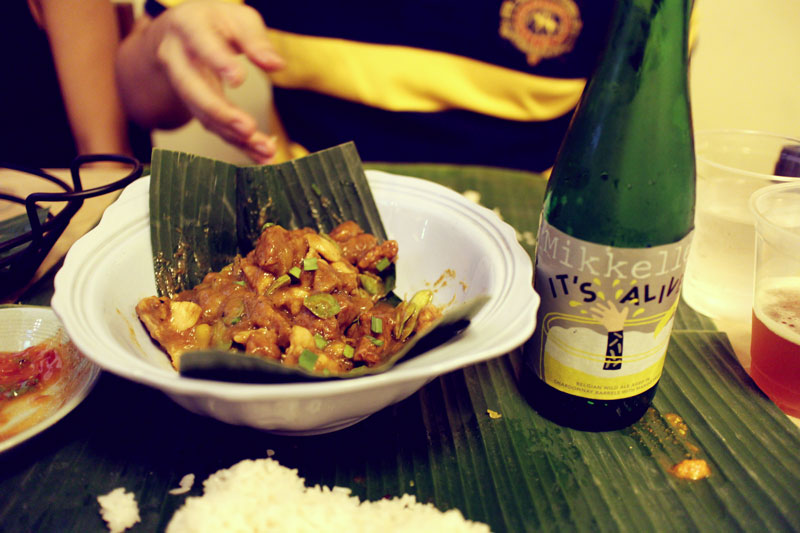 The absolute highlight of our whole evening (besides the nasi lemak rice – that was also so amazing) was the steaming pot of assam fish head by chef David. He mentioned that this was made especially for the dinner and is not a regular item on its menu. Big mistake. Everything from the doneness of the fish to the level of heat in the pot was just. perfect. The reactions to the pairing were mixed however. We thought the pairing of the Green Gold IPA made sense as it did well to cleanse the palate and take away that possible gelak (cloying) feeling after a few mouthfuls, but others we spoke to thought that the tropical fruit aromas from the hops was jarring against the already strident notes in the curry.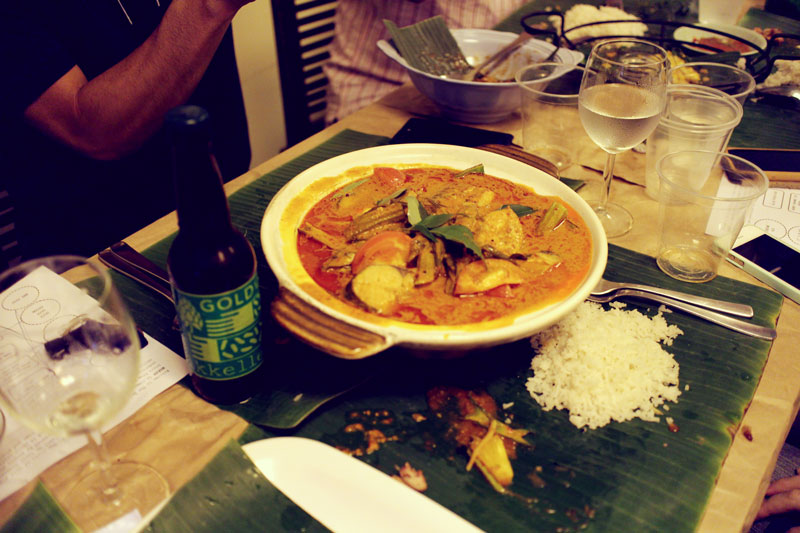 Besides the very generous pours of Mikkeller's pricey beers (we only paid $60), the chef also thoroughly spoiled us with a whole bunch of extra dishes. Highlights include the tender hong shao rou – a char siew-like platter of pork seasoned with the lees of shaoxing jiu…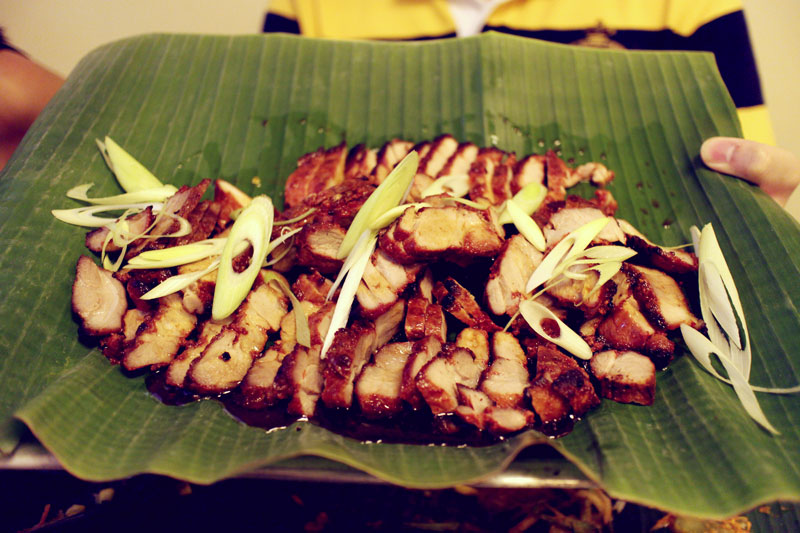 And rendang on buns, prepared here by his fiance.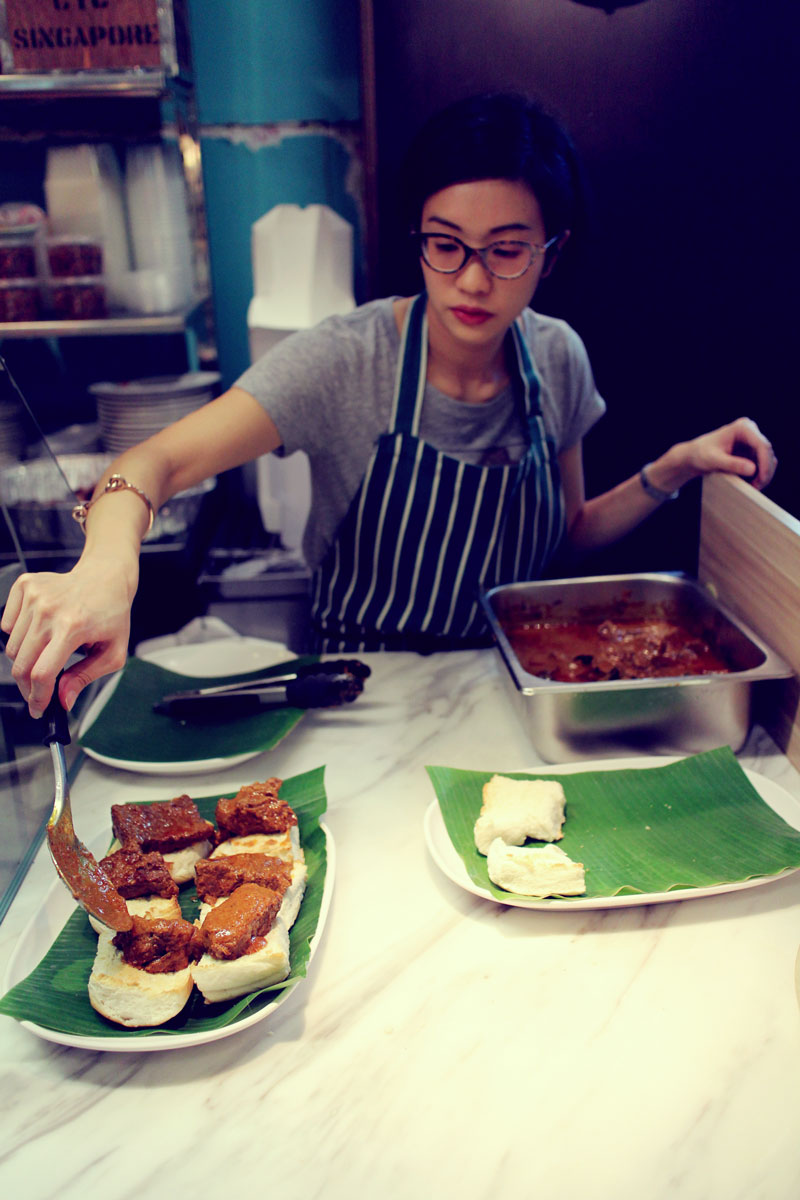 Dinner ended with a serving of burnt caramel ice-cream from Island Creamery, to be eaten with a good swig of Beer Geek Bacon. I didn't manage to get a picture of this because, as you can probably guess, my mind was off in happy beer land, just miles away from the thought of blogging. :) My gut was seriously stretched from all the good food and beer, but there was still space for that ice-cream because it was that good.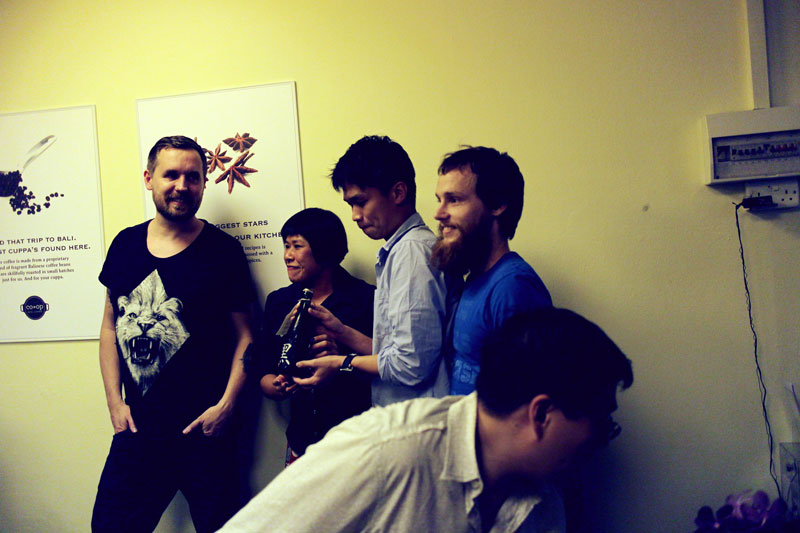 Having guessed most of the pairings for the evening right, we came in joint third with Desiree's and Edward's team and won a bottle of Mikkeller Hei from Lincoln's personal stash of beer.
Nick and I subsequently gate-crashed on a drinking session with Corrine, Lincoln and Mikkel – eeps! – but more on that later. :) In the meantime, here are more pictures from the evening.
We are eternally grateful to Corrine and Lincoln from The Drinking Partners, firstly for giving us in Singapore the chance to always try such stellar craft beers by brewers like Mikkeller, for bringing such superstars to our shores, and also, for organising such a great event. We have more to share about our day with Mikkel, but we'll tell more in our next post!
Edit: We found a blog post chef David Kwok wrote about conceptualising dishes for this dinner. For more insight, check out his post, and you have time, check out the rest of his blog too. We love reading the stories about the local suppliers he works with to stock the restaurant. :)